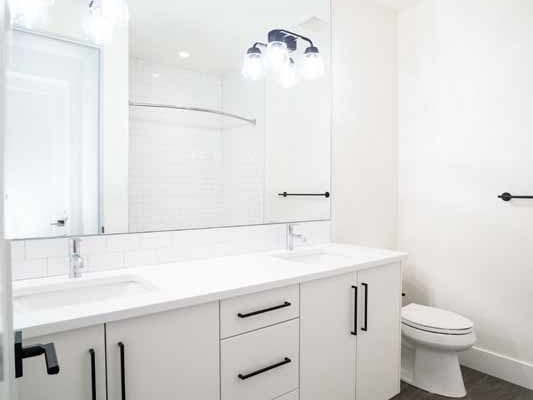 The Selections Process
Choosing the finishing materials for your new home begins once your home design starts to take shape. Through working together using our past experiences and techniques, Chris and Andrea have come up with three great options for selections that set clients up for a seamless, fun, and stress-free selections process, and therefore build.  Through our experience, the happiest clients are the ones that are guided to "front-load" the selections, meaning do the work upfront while we work through permitting with the City.  It might seem strange that something as small as a cabinet handle can make the build more stream-lined – but it honestly does!  Having all your decisions made upfront even before the shovel hits the ground is very significant to allow construction to flow smoothly.
Here are our Three Options:
Option 1: Leave it to the Experts
In this option, we work closely with you to learn your taste and style. We meet with you and drool over your Houzz, Pinterest, magazine clippings, show you pictures, discuss ideas and get to know your vision. From there, our expert team goes to all of the selection meetings with our Trade Partners and Suppliers to choose the perfect finishings for your new home. We do this while keeping your budget in mind, as we know the last thing you need is a beautiful proposal that breaks the bank. With all of the selections and samples in hand, our team proposes the exterior and interior colors and materials to you. In our experience, 99% of the time, our clients are extremely happy with this approach, but the odd time or two a family will re-select an option to make it truly their vision. This is the popular option for our clients, as everyone has busy lives, and it takes the least amount of personal time away from you.
Option 2: Behind the Scenes
If you're curious to know what's happening behind the scenes, this is a great option for you. You get to come to every meeting alongside our team. There will be many decisions to be made, samples to see. Bring your decision-making hat and we will bring the coffee.  This option is great for people who have the time to dedicate to the process, who are extremely design-savvy, or want to see the millions of options!
Option 3: The Important Stuff
This option is a combination of the first two. You join our team at a few of the selection meetings that are really important to you. If you want to see all of the flooring options, you will meet our team at the flooring supplier. Or, if you want to just see appliances, you will join us there. We want to create an experience that is custom to you without overwhelming you with too many choices.
The selection process is a lot of fun and very exciting. We work with our Interior Designers or yours if you have your own. The selection stage is where you will start to see the plans come to life with colors and materials.
Have some questions on our selections process? Email us at info@lighthousecustomhomes.ca